Welcome to PI's and FinnCERES programme's joint webinar on December 9th, 2020 at 8.30 am EET!
Reflecting on the COVID-19 times, it is clear that the voices of science and technology need to be heard as part of the conversation. Now, more than ever, we need to produce informed opinions in order to make sustainable decisions. What is there for the forest sector? How will the products from wood impact our survival? How are education, research and the forest industry supporting sustainable economic growth?
To learn more, participate in the webinar on 9 December at 8.30 am! Please note, all the presentations will be given in English.



PRELIMINARY PROGRAM
8.15  Webinar connection opens
8.30  Opening of the event
Bioinnovation centre boosting opportunities for sustainable economic growth
Kristiina Kruus, Dean, School of Chemical Engineering, Aalto University

The Jane and Aatos Erkko Foundation granted Aalto University a substantial grant to establish a bioinnovation centre, which is a multidisciplinary research and learning centre to promote breakthroughs in bio- and circular economy. A special focus will be on sustainable textile and packaging solutions. A doctoral school will be an essential part of the centre. The school will combine various disciplines in Aalto and facilitate cutting-edge research and educate experts for future needs. In addition, the grant allows opening of a new professor position in biomaterials and a development of piloting facilities.
 
Keynote: The use of the forest resources in the new era of uncertainty
Orlando Rojas, Research Principal Investigator of FinnCERES Flagship, Aalto University and Scientific Director of BioProducts Institute, University of British Columbia

The current times of uncertainly bring an undisputable opportunity to make a statement, "products from wood will have a great impact for our survival". It is an ideal time for governments and industry to catalyze bioproducts research and development and to convince decision makers that the forest industry is about much more than two of my favorite materials, lumber and paper. The long list of bioproducts that can be used, sustainably, by utilizing every molecule of a tree, includes plant oils and sugars to replace oil-derived plastics, wood-derived biochemicals and resins for making lubricants, solvents and paints, and "biopharmaceuticals".
 
Combatting climate change with renewable biochemicals: case UPM Leuna biorefinery 
Juuso Konttinen, Vice President, UPM Biochemicals
9.45 Program ends, closing of the event
 
The event is free of charge. Please register by 7 December via this link.

The link to the event will be sent to the registered participants. If you have not received the email by the end of 8 December, please also check your spam folder.
Further information about the event: Natalia Musina, natalia.musina(at)puunjalostusinsinoorit.fi, tel. +358 40 5587905
More information about FinnCERES: Jukka Hassinen, info(at)finnceres.fi
 
Speakers: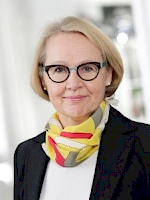 KRISTIINA KRUUS
Kristiina Kruus works as the Dean in the School of Chemical Engineering at Aalto University. She obtained her doctoral degree from Helsinki University of Technology, Department of Chemical Engineering. Most of her scientific work is related to enzymatic modification and degradation of plant biomass. Kristiina Kruus has published more than 100 peer-reviewed scientific papers and book chapters. During 1997-2018, she worked at VTT Technical Research Centre of Finland in different positions, the last eight years as Research Professor in the area of applied enzymology of renewable biomasses.  She is a member of the Academy of Finland Research Council of Biosciences Health and the Environment (2016-) and a docent at the University of Helsinki, Faculty of Forestry and Agriculture.
ORLANDO ROJAS
Professor Orlando Rojas is a Canada Excellence Research Chair at University of British Columbia, where he is acting as the Director of the Bioproducts Institute. Part of his research group (Bio-based Colloids and Materials) operates at Aalto University, where he is a visiting professor at the department of Bioproducts and Biosystems. At Aalto, Prof. Rojas has been the chair of Aalto's Materials Platform and leads, together with the VTT Technical Research Centre of Finland, the FinnCERES Flagship to advance the Finnish materials bioeconomy. Prof. Rojas received his PhD in Chemical Engineering from Auburn University in 1998 followed by an appointment as Senior Researcher in the Royal Institute of Technology, KTH and the Institute for Surface Chemistry, YKI, both in Stockholm. After that, he got appointed for a tenure track position as Professor to the Department of Forest Biomaterials in North Carolina State University (NCSU, 2004-2013). During his career he has advised 40 postdoctoral fellows, 55 PhD and 34 MS students. He has also hosted 112 international visiting scholars and professors (2 months to two years). With a h-index of 70, he has authored about 410 peer-reviewed papers and a larger number of conference contributions related to the core research, mainly dealing with nanostructures from renewable materials and their utilization in multiphase systems.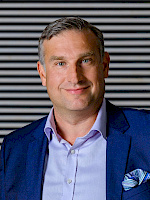 JUUSO KONTTINEN
Vice President Juuso Konttinen leads UPM Biochemicals organization and EUR 550 million biorefinery investment in Germany. He has more than 20 years of experience from the global forest products industry with different business and leadership roles in Finland, Germany and USA. Juuso holds three master's degrees; forest products technology, international business and economics.
Tapahtuma on jo alkanut ja ilmoittautuminen tapahtumaan on päättynyt.