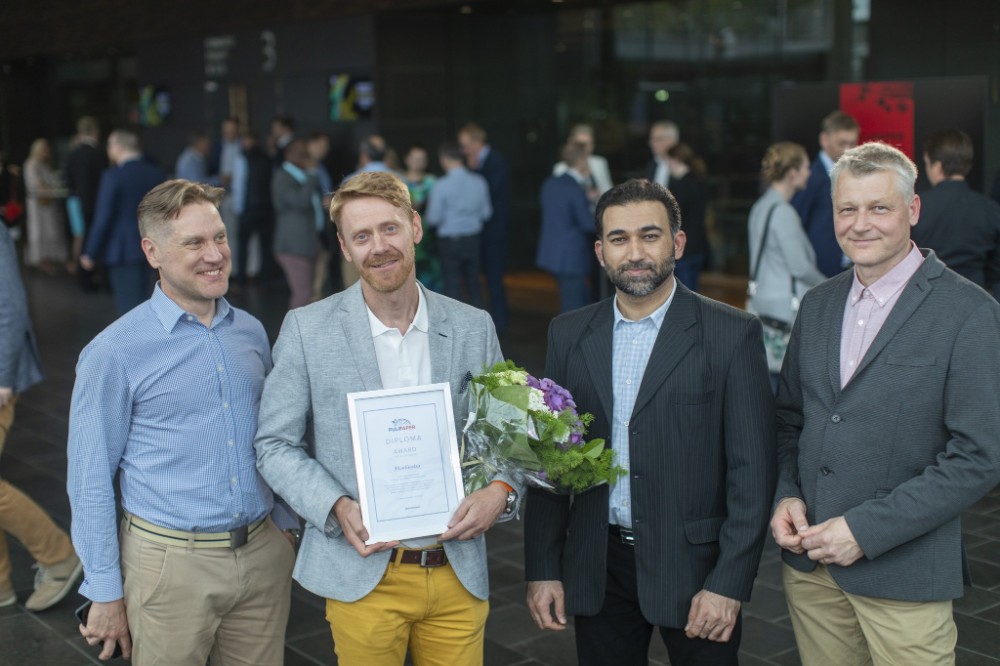 Seven companies participated in the PulPaper Award Startup Competition. The competition brings forth new and significant solutions in the field of forest bioeconomy. The winner of the competition is Montinutra, which uses sawdust as raw material in the preparation of Sprucegum ™ extract for use in the cosmetics, techno chemical and even food industries. The honorary award was given to Natural Antivirals.
The start-up competition looked for the most promising and potential growth companies in the forest bioeconomy field. The PulPaper Award is given to a Finnish company that has developed an innovation that produces a positive image for the forest bioeconomy industry and from which an internationally significant product or service can be developed. At its best, the solution also opens up new perspectives in the forest bioeconomy sector. The winner is granted a 5000 e PulPaper Award funded by the Finnish Fair Foundation.
Montinutra's innovation is truly related to the forest industry, competitive and scalable. It is also new and interesting from a consumer perspective. Montinutra uses raw material from the forest industry, which is generated from the byproducts of the forest industry. The raw material used adds significant value to the product. Montinutra Spruce Extract is an important innovation in wood processing.
In the high-quality competition, the jury gave an honorary award to Natural Antivirals for putting the healing effect of forest nature on everyone's skin. With the honorary award, the jury wanted to thank the company for an innovative product with a lot of good research behind it.
Three companies in the final
The finals of the start-up competition included Dry and Durable, Montinutra and Natural Antivirals. Dry and Durable has developed a water and dirt repellent plastic-free barrier material for packaging. Montinutra uses sawdust as raw material in the preparation of Sprucegum™ extract for use in the cosmetics, techno chemical and even food industries. Natural Antivirals' innovation is an antiviral ingredient from Finnish forests used in cosmetics and cleaners.
The competition was organized by Messukeskus in cooperation with The Finnish Forest Products Engineers' Association and the Finnish Business Angels Network (FiBAN). FiBAN is one of the largest business angel networks in Europe, with more than 670 investors as members.The jury of the start-up competition consisted of Johan Engström (ANDRITZ), Heli Kangas (VTT), Annukka Mickelsson (FIBAN), Jouni Paltakari (Helsinki University), Saara Söderberg (AFRY), Martti Toivakka (Åbo Akademi University), Petri Vakkilainen (Metsä Group), Antti Lindqvist (PI) and Marcus Bergström (Messukeskus).
The start-up competition was now arranged for the third time. The previous competition, held in 2018, was won by Lumir, which designs and produces wall and ceiling surfaces that effectively prevent reverberation.
PulPaper 2022 was arranged 7-9 June at the Helsinki Expo and Convention Centre.
For further information: Communications Manager Teija Armanto, +358 50 376 0804. teija.armanto@messukeskus.com
Montinutra, CEO Jaakko Pajunen, +358 44 343 5162 jaakko.pajunen@montinutra.com